Date: 30 March 2018
Bedroc Donates $25,000 to GiGi's Playhouse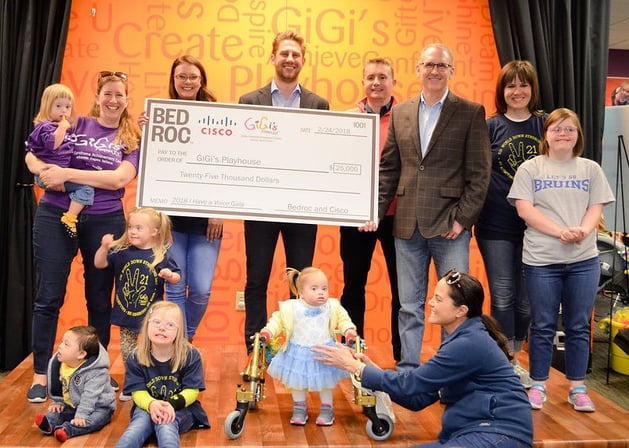 March 29, 2017 (Nashville, Tenn. )
Bedroc has announced a $25,000 donation to GiGi's Playhouse Down Syndrome Achievement Centers Nashville. The donation, in partnership with Cisco, supports the 2018 I Have a Voice Gala and Auction, the organization's primary annual fundraiser, held on February 24. "The decision to support GiGi's Playhouse was an easy one for Bedroc," said Chase Wilkinson, Bedroc Founder and CEO. "At Bedroc, we believe success is built on a strong foundation and we are proud to support organizations in our Nashville community that educate, encourage and inspire youth and adults."
At this year's event, entertainment reporter and producer Jennifer Vickery Smith served as emcee, while brothers Maddox and Lucas Rodriguez were the evening's keynote speakers. Maddox is a program participant who has Down syndrome and Lucas is a literacy tutor at GiGi's. "Our program participants are changing the way the world sees Down syndrome," says GiGi's Nashville site coordinator Janea Rayborn. "The gala is such a fun way to celebrate their achievements and to support the programs and community that help them find their voices and reach their goals."
In its sixth year, the I Have a Voice Gala and Auction celebrates the many achievements of children and adults with Down syndrome. "We are proud to support GiGi's Playhouse and the I Have a Voice Gala," added Wilkinson. "Organizations like GiGi's Playhouse foster growth in our communities by guiding and encouraging individuals of all abilities to realize their full potential." This year, the I Have a Voice Gala raised $225,000, funds that will support the over 25 programs and services for individuals and families in the community. "We are so thankful to our Bedroc, Cisco and the other many sponsors and supporters of this year's gala," said Rayborn. "Our sponsors are invaluable assets that allow GiGi's Playhouse to serve our hundreds of families each year."
GiGi's Playhouse is a 501(c)3 nonprofit supported by hundreds of volunteers and funded solely by donations. "All our programs are free to our families," Rayborn says. "That's possible because local individuals and companies support our mission of acceptance and empowerment for people with Down syndrome. GiGi's is making Nashville a kinder, more welcoming place, and we are so grateful for the community support to continue to bring joy, confidence and growth to our participants and their families."
GiGi's Playhouse is the only international network of Down Syndrome Achievement Centers. GiGi's offers free therapeutic, educational and career training programs to individuals with Down syndrome and their families. GiGi's Playhouse Nashville is one of 35 locations in the U.S. and Mexico that together served more than 30,000 individuals with Down syndrome last year. These locations are an inspirational and dedicated place for families to celebrate their child and benefit from free programs that unleash joy, confidence and continuous improvement. GiGi's Playhouse's mission is to change the way the world views Down syndrome through national campaigns, educational programs and by empowering individuals with Down syndrome, their families and the community.
GiGi's Playhouse Nashville is located at 1724 Carothers Pkwy., Suite 400, Brentwood, Tenn. For more information on how to support GiGi's Playhouse, visit GiGisPlayhouse.org/nashville or call (615) 370-1500.
Founded in Nashville in 2009, Bedroc is a full-service IT managed services and IT strategy firm with specialization in healthcare, finance and manufacturing / retail environments. Named to the Inc. 5000 list for two consecutive years, Bedroc was recently named to the Nashville Business Journal's Fast 50, a list of the 50 fastest growing private companies in Middle Tennessee as well as the top 100 private companies in Middle Tennessee.